There are a ton of things to find in the Ronnie Robot application (this post just covers the Village and Farm scenes!).  As the creators of Ronnie, we're adding new things on a daily basis, and we'll get those to you just as soon as we can.
---
1 Robot

---
4 Robot Styles
Ronnie can be customized in any of 4 different styles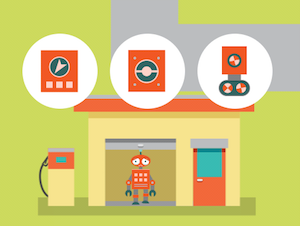 ---
 1 Fire
(can burn any building and can be put out by the fire/water truck)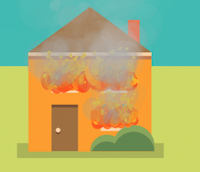 ---
 24 Robot Clothing Options
– 2 flotation devices (and nerd glasses)
– 9 hats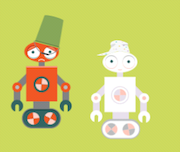 – 12 full sets of clothing

– 1 fire fighter's suit
Note: clothes can be combined with other accessories (like robot parts, paint colors and hats)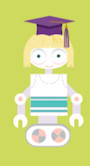 ---
  25 Buildings and Locations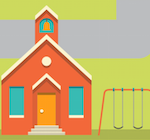 – 9 buildings in the Village Scene
– 8 buildings in the Farm Scene
– 3 fields in the Farm Scene (3 different crops that can be collected)
– 4 different construction sites
–  1 camping site
---
 14 Vehicles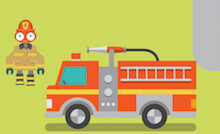 Vehicles often have unique capabilities (the fire truck puts out fires, the paint truck paints houses, etc.).  In addition, some vehicles have a hat that Ronnie can wear.
– 9 vehicles in the Village Scene
– 5 vehicles in the Farm Scene
---
 120 Misc Things
– 1 bucket (can be carried to plant flowers or put on head)
– 3 videos
– 1 firework extravaganza
– 1 bunch of flowers that can be planted almost anywhere
– 4 different colors to paint houses
– 4 different colors to paint cars
– 4 landscaping options for houses
– 2 different ways to damage the vehicles
– 2 trains

– 1 plane
– 1 parachute
– 1 fish
– 1 shark
– 1 parachute
– 3 clouds
– 1 rainstorm (with lightning)
– 1 rainbow
– 4 lightning-struck robots
– 1 school bell
– 4 different trees (including an apple tree)
– 1 mud pit
– 4 different robot emotions (lots of ways to make the robot angry, for instance)
– 1 robot upset about smeared paint
– 2 crazy robot dances

– 1 crazy robot driving move (watch carefully and you'll see Ronnie spin-out and drive like a maniac)
– 2 sets of flashing lights on emergency vehicles
– 1 lake
– 1 robot drill
– 1 gopher
– 1 squirrel
– 1 raccoon
– 1 rabbit
– 1 duck
– 2 birds
– 1 owl
– 4 school children
– 2 children  on the swing set
– 1 child robot doing jumping jacks
– 1 child robot (being scared)
– 1 mouse
– 1 cat named Darwin
– 1 lear jet (not operable)
– 1 bicycle (not operable)
– 1 hover board (not operable)
– 1 camper van (not operable)
– 1 cow (escaped)
– 1 chicken (on the loose)
– 1 UFO (look in the corn field)
– 1 shrink ray
– 1 cow abduction ray
– 1 robot acting like a scarecrow
– 1 robot climbing a tree
– 1 swing set
– 1 swing on a tree
– 2 breakable buttons
– 1 fishing pole
– 1 campfire
– 1 tent
– 1 pitchfork
– 1 sparkler
– 3 ways to get clean (water tower, water truck, lake)
– 1 kite
– 4 balloons
– 1 smokestack (see the fireworks store)
– 3 fences (2 to put around houses and 1 for the cow)
– 1 way to grow crops faster (hint: it involves water)
– 3 ways fires can start
– 1 piece of hay in a robot-mouth
– 1 tumbleweed
– 1 train signal
– 1 grocery bag
– 1 pair of binoculars
– 2 bins that can be filled with crops
– 3 baskets of crops
– 2 ways to repair vehicles
(and much more coming…)